Select an icon below to jump to a different page:

---
1996 TARGA AND CARRERA 4S

"The Targa holds a particularly honored place in sports car history. The name is evocative of dusty European races where legendary duels were fought by drivers who raced not for huge purses or titles, but for the pure love of competition."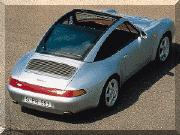 ---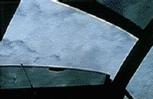 The new Targa version of the popular 993 body style 911 will be introduced for the 1996 model year. The Targa is based on the cabriolet body, with the addition of a sliding glass top quite different from the earlier year targa models of the pre-95 era. The Targa top slides back underneath the rear glass panel with the flick of a switch. The engine and suspension remain similar to the 1996 standard Carrera, however the Targa will sport new 17" wheels exclusive to the Targa version. U.S. price tag is $70,750.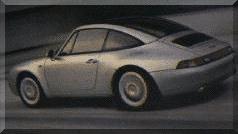 Although the Targa is Cabrio-based, a number of body pieces are unique, designed to accept the sliding glass roof that is built out of house by Webasto, a German sunroof manufacturer. And what a slick piece it is. Anchored to the lower body by steel support pillars and also be the rear-quarter windows and and backlight - all fixed - the Glas Dach, as the Germans call it, consists of two pieces: a small vent flap at the forward edge of the roof (behind the windshield header) and a large glass panel that slides rearward to nestle beneath the rear window.
Features unique to the Targa
Fixed glass Targa roof with sunshade and wind deflector. Center of roof retracts electrically under rear window glass.
7Jx17 Targa wheel, 205/50ZR 17 tires
9Jx17 Targa wheel, 255/40ZR 17 tires
---
The Carrera 4S ("S" traditionally for "Super") features most of the new 911 Turbo without the "Turbo". The body style is present, as well as the huge Turbo disc brakes, but the actual engine is that of the standard Carrera at 282 base horsepower and 3.6 litres. Also missing is the signature tail of the Turbo, instead the standard variable-position spoiler sits atop the engine compartment. U.S. price tag: $73,000.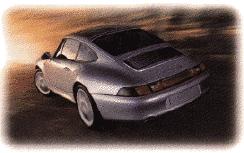 Features of the Carrera 4S
Turbo nose, front valance, rocker panels, and rear fenders
larger, wider "Turbo look" 18-inch cast alloy wheels
larger, wider 225/40 and 285/30 tires
larger Turbo brakes, distinctive red Turbo brake calipers
Turbo suspension components for higher loads
---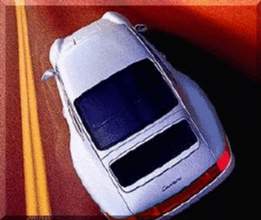 "There is a guy who has what many believe to be the best job in the entire world and there's really nothing any of us can do about it short of flying to Germany and asking for an application to become a test driver for Porsche which makes less sense that just buying one for yourself and testing it in your own sweet time."

Back to the main Porsche page
Go to the Porsche 911 section of the picture archive
---
Last updated January 31, 1996