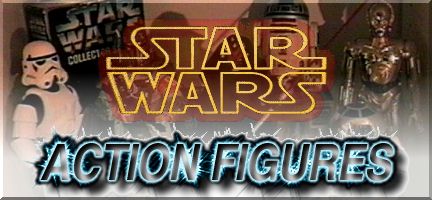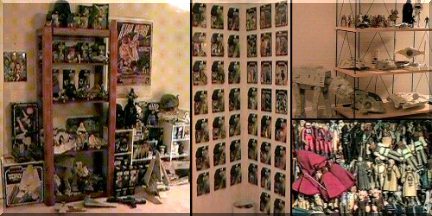 Intro
I grew up with Star Wars, like every kid born in the 70's. I had a large collection of the toys, too. However, in the late 80's something went horribly wrong and through some freak accident (stupid garage sales) I lost my entire collection save two figures: a Hoth Stormtrooper and an AT-AT driver. With those two figures I began collecting again in 1990 in high school with three other Star Wars fanatics. During a one-year period I managed to find over 200 vintage figures (completing a set of the entire 79 original figures, plus doubles and triples), playsets, and vehicles.
Overview and count totals
Current figure count: 294 original Kenner 3.75"
...including 22 mint on card
Original Kenner 3.75 inch figures
3.75" figures (M.O.C.)
C-3PO (SW 12-back)
Darth Vader (ROJ)
Admiral Ackbar (ROJ)
Rancor Keeper (ROJ)
Hoth Stormtrooper (ROJ)
Leia (combat poncho) (ROJ)
B-wing Pilot (POTF)
Lumat (POTF)
Bib Fortuna (ROJ)
Squid Head (ROJ)
EV-9D9 (POTF)
Nikto (ROJ)
Biker Scout (ROJ)
Prune Face (ROJ) (x2)
Logray (ROJ)
Paploo (ROJ)
Ree-Yees (ROJ)
Rebel Commander (ESB)
Bespin Security Guard (ESB)
Rebel Soldier (ESB)
Obi-Wan Kenobi (ESB)

3.75" figures (loose)

Teebo (x3)
Wicket (x2)
Paploo (x2)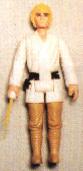 B-wing Pilot (x2)
Princess Leia (combat poncho) (x2)
Rancor Keeper (x3)
Han Solo (trench coat)
AT-ST Driver (x3)
Klaatu (skiff guard) (x2)
8D8 (x2)
The Emperor (x3)
Nikto (x4)
Prune Face (x2)
Bib Fortuna (x4)
Ree-Yees (x3)
Weequay (x3)
Emperor's Royal Guard (x6)
Chief Chirpa (x2)
Lando Calrissian (skiff guard) (x4)
Luke Skywalker (Jedi knight) (x3)
Boushh (x3)
Logray (x3)
Squid Head (x2)
Klaatu (x4)
Gamorrean Guard (x3)
Stormtrooper (Hoth battle gear) (x8)
Princess Leia (Bespin gown) (x2)
Imperial Commander
Cloud Car Pilot (x2)
Bespin Security Guard (x2)
4-LOM (x4)
Zuckuss (x3)
TIE Figher Pilot (x3)
General Madine (x4)
Nien Nunb (x2)
Rebel Commando (x2)
Biker Scout (x5)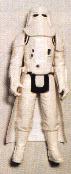 Admiral Ackbar (x3)
Luke Skywalker (Hoth battle gear) (x3)
Bespin Security Guard (x2)
R5-D4 (x2)
Princess Leia (Hoth outfit) (x2)
Yoda (x3)
Han Solo (Hoth battle gear) (x3)
Chewbacca (x2)
Lando Calrissian (x5)
Lando Calrissian (w/ teeth)
R2-D2 (x4)
C-3PO (x7)
Luke Skywalker (Bespin fatigues) (x4)
AT-AT Driver (x4)
AT-AT Commander (x4)
Ugnaught (x2)
IG-88 (x4)
2-1B (x2)
Snaggletooth (x3)
Rebel Commander (x2)
Han Solo (x2)
Boba Fett (x2)
Jawa (x4)
Darth Vader (x11)
Obi-Wan Kenobi (x4)
Luke Skywalker (x2)
Han Solo (Bespin outfit) (x3)
Princess Leia (x3)
FX-7 (x3)

Death Star Droid (x3)
Walrus Man (x4)
Rebel Soldier (x4)
Tusken Raider (x5)
Star Destroyer Commander (x3)
Hammerhead (x2)
Power Driod (x3)
Luke Skywalker (X-wing Pilot) (x2)
Dengar (x4)
Greedo (x3)
Bossk (x4)
Lobot (x5)
Stormtrooper (x9)
Luke Skywalker (Stormtrooper disguise)
Amanaman
Anakin Skywalker
Romba
Warok
Han (Carbonite)
Imperial Dignitary
Imperial Gunner
A-Wing pilot
Lando General
Barada
R2D2 w/ pop-up lightsaber
Yak Face
Original Kenner playsets and vehicles
AT-AT (x2)

AT-ST

Millenium Falcon (x2)

Slave-1 (x2)

Cloud Car

B-wing (MWB)

Imperial Shuttle (MWB)

Dewback

Taun taun (x2)

Speeder Bike (x3)

Snow Speeder

Hoth Command Center

Hoth (w/ cardboard back)

Dagobah

X-wing (x2)

Death Star playset

Rancor

Miscellaneous vintage items
12" Kenner Darth Vader

12" Kenner R2D2

12" Kenner C-3PO

12" Kenner Stormtrooper

Full scale Darth Vader helmet

Full scale Yoda mask

Full scale blaster rifle

Set of 4 ESB glasses
Darth Vader figure carrying case
ESB record and book
Die-cast figures Hoth playset
Die-cast figure small-scale X-wing
Want list
I'm currently in the market for:
Any vintage 12" figures
Y-wing (complete)
Vintage 3.75" POTF Yak Face, C-7 or better
Luke Jedi M.O.C.
Any SW 12-back C-8 or better

Please e-mail me if you're interested in selling the above items if you have them.