---

---
911 Carrera RS
---
The new Porsche 911 Carrera RS (for rennsport, or race sport), based on the new 993 body style, is for the Porsche enthusiast who wants a lighter and faster Carrera, with none of the fancy options as found on a stock 1996 911. It is an automobile striped of its amenities, without the creature compforts of more recent models. Porsche plans to build 1200 Carrera RSs for the entire world, including 100 Clubsport versions for ultimate club racers. This is a 911 lacking standards like electric windows, seat adjustment, and outide mirrors, central locking, headlight washer, full speaker set, and air bags now as optional, all for the purpose of saving weight. Thinner glass is even used to save 11 pounds and the rear seats have been taken out as well. All the deletions considered, the RS weighs only 2800 pounds, 220 less than a normal 911 Carrera.

Added, however, are stabilizers front and rear, drive-dynamics lockup diff, ABD, stiffer suspension bushings. The car is lower than the standard Carrera by 1.2/1.6 inches front/rear, and the brakes are larger (12.7 inch cross-drilled discs). The change in engine specifications bring the horsepower up to 300 and 6500 rpm, and torque is up by 26 lb-ft.
---
TECHNICAL DATA
Porsche 911 Carrera RS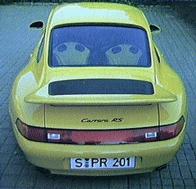 Engine
Air-cooled, six-cylinder boxer, dry-sump lubrication, two valves per cylinder, hyudraulic lifters, two controlled, three-way, metal catalitic converters. Map-controlled electronic management, hot-film air mass measurement, knock-control, sequential, multi-point, manifold injection, unleaded, 98 octane fuel. Bore 4.0 inches, stroke 3.0 inches, displacement 3746 cc, compression 11.3:1, output 300 HP at 6500 rpm, torque 261.8 lb-ft at 5400 rpm.
Driveline
Six-speed, manual gearbox, limited-slip differential with 40% lockup under load, 65% on overrun, ABD.
Chassis
MacPherson spring legs and dual-tube shock absorbers in front, multi-link, LSA subframe and single-tube shocks in rear, adjustable stabilizers front and rear. Dual-circuit brakes with four vented and cross-bored discs, booster, four-channel ABS5, four-piston, fixed saddles front and rear. Front tires 225/40 ZR 18 on 8J rims; rear tires 265/35 ZR 18 on 10J rims.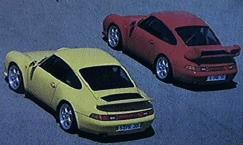 Bodywork
Coupe; special nose and sill spoilers, free-standing rear wing, luggage lid of aluminum, thin-glass side windows.
Options
Radio/cassette player, air bag, air-conditioner, Clubsport rear wing.

---

Last updated September 14, 1995