Select an icon below to jump to a different page: [about this applet]

---
THE NEW 911 CARRERA

"A 911 Carrera is about driving in its pure state. It's about agility and handling so responsive to your reflexes that the car no longer seems to be merely a machine, but an extension of yourself. A sixth sense, if you will. The feeling of driving at its most precise, most exquisite moment. It is a moment that has lasted for nearly three decades, a moment shared by those who have taken the time to experience a 911."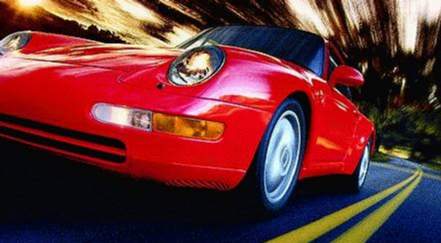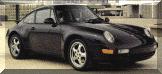 TECHNICAL SPECIFICATIONS
Engine Design: Air cooled, lightweight aluminium alloy, horizontally opposed 6-cylinder, crossflow, hemispherical combustion chambers, 2 valves-per-cylinder, dual resonant induction, rear mounted.
Displacement: 3.6 litre
Horsepower (SAE net): 282 @ 6,100 rpm
Torque: 250 lb-ft @ 5,250 rpm
Compression ratio: 11.3:1
Transmission: 6-speed manual transaxle or 4-speed Tiptronic dual function.
Suspension, Front: Independent MacPherson struts, aluminum alloy lower control arms, coil srpings, stabilizer bar, negative steering roll radius.
Suspension, Rear: Independent multi-link with LSA, self-stabilizing tow characteristics, stabilizer bar.
Brake System: Power assisted, dual circuit, four-piston aluminum alloy fixed caliper, revised anti-lock braking system (ABS 5), vented cross-drilled discs, (front 11.97in./rear 11.77in.)
Steering: Rack and pinion, force sensitive hydraulically assisted.
Tires & Wheels: Std. Cast Alloy-Front: 7Jx16, 205/55ZR 16. Std. Cast-Alloy-Rear: 9Jx16, 245/45ZR 16.
Acceleration: 0-60 mph in 5.4 seconds
Top Track Speed: 171 mph (168 mph Tiptronic)
Wheelbase: 89.4 in.
Overall length: 167.7 in
Track-Front/Rear: 55.3 in./56.9 in.
Fuel Consumption City/Highway: 17/25
Base Price: $63,750 (US)
STANDARD AND OPTIONAL EQUIPMENT
Exterior Featurs

10-year limited anti-perforation corrosion warranty.
2-year, new vehicle limited warranty with unlimited mileage, including the Porsche roadside assistance program.
26-step paint process with 3 year limited warranty.
Aerodynamic, redesigned front and rear bumpers.
Unique modular poly-ellipsoid headlights with variable focus and washer system.
Digital electronic fog lights integrated into the front apron.
Larger, speed-dependent extendible rear spoiler.
Redesigned third brake light.
Full-power top on Cabriolet with automatic latching and unlatching.
Electric sliding sunroof on coupe.
Heated windshield washer nozzles.
Electrically adjustable & heated outside rearview mirrors.
Windshield antenna with interference suppression & signal amplifier.
Wheel anti-theft device.
Two-stage rear window defroster on coupe.
Redesigned outside door handles, painted to match exterior color.

Interior Features

2 + 2 seating.
Automatic temperature control air conditioning with a new particle filtering system.
Redesigned leather steering wheel.

Safety

Driver and front passenger ait bag supplemental restraint system.
Interia reel front/rear, 3-point seat belts.
Energy absorbing steering column.
Brake pad wear indicators.
Standard vented cross-bored disc brakes.
ABS 5.
Redesigned dual wiper system with variable delay.

CHANGES FOR THE 1996 MODEL YEAR
Engine improvements

VarioramTM induction system
Internal engine and DME changes for more power and torque
New exhause tips for all non-Turbo models
282 horsepower

OBD II on-board diagnostic system for all models
Optional 18 inch Turbo-look wheels
Litronic gas discharge headlights (standard on Turbo, optional on all other models)
Center brake light integrated in rear edge of roof (Coupe)
Infrared interior anti-theft system (optional)
Folding key integrated immobilizer system
New radios
Three new exterior colors
One new interior color
"The shortest distance between two points is a straight line. Or a new 911."
Click here to download a recent advertisement (32K)
---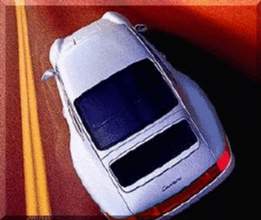 "There is a guy who has what many believe to be the best job in the entire world and there's really nothing any of us can do about it short of flying to Germany and asking for an application to become a test driver for Porsche which makes less sense that just buying one for yourself and testing it in your own sweet time."

Back to the main Porsche page
Go to the Porsche 911 section of the picture archive
---
Last updated July 16, 1996