---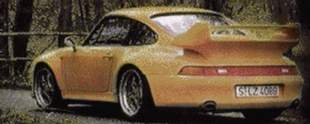 ---
911 GT 2
---
The newest edition to the lineup of the Type 993 911 family. The GT 2 is the brand new Turbo meant to qualify for FIA and La Mans racing in the GT 2 class. Although production is for the racing circuit, a limited number (around 100) will be for personal use on the road. For the GT 2, the usual Turbo 4WD system was dropped, along with all the other standard luxuries such as electric windows and mirrors. The 55 pounds of sound dampening was also done away with for this race car.

---
TECHNICAL DATA
Porsche 911 GT 2
Engine
Boxer six, air-cooled, two-valve heads, twin turbochargers and twin intercoolers, two oil coolers in the nose, engine-map-controlled Bosch Motronic injection. Output 430 HP, Super plus (98 octane unleaded) fuel.
Driveline
Six-speed manual gearbox, dual-mass flywheel, asymmetric limited-slip differential 40% under load, 65% on overrun, ABD, rear-wheel drive.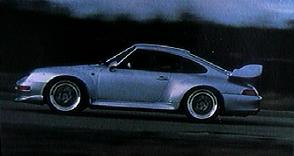 Chassis
MacPherson springs legs, shock-tower brace, five-position adjustable stabilizer, servo steering in front. Multi-link LSA axle, stiff subframe bushings, three-position, adjustable stabilizer in rear. Special spring/shock settings, three-piece Speedline light-alloy wheels with magnesium spyders. Front: 9 J x 18 for 235/40 ZR 18 tires; rear: 11 J x 18 for 285/35 ZR tires. Car lowered 0.78 in. (compared to 911 Turbo, 1.2/1.6 in. front/rear compared to Carrera). Four piston, fixed-sadle brakes, ventilated and cross-bored discs, 12.7 in. diameter, four-channel ABS (fifth generation).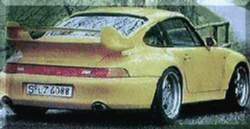 Bodywork
Based on 911 Turbo with 3 cm plastic fender extension fron and rear, adjustable plastic rear wing with air intakes either side, aluminum doors and front lid, additional front spoiler, thin-glass side and rear windows, 24.3 gallon tank (19.3 gal for RHD cars), interior to match Carrera RS (road), GT script on rear bulkhead. Momo steering wheel to Porsche design. Anti-theft protection where required. Approx. 2845 lb. empty.
Options
Clubsport package (welded-in roll cage, contoured bucket seats, six-point harness, main battery switch, fire extinguisher); Blaupunkt radios; sport seats without height adjustment; driver and passenger airbags (standard steering wheel), air conditioning.

Go back to the main Porsche page
Go to the GT section of the picture archive
---
Last updated August 29, 1995