Select an icon below to jump to a different page:

---
THE 1996 911 TURBO

"Zero to sixty in just over four heartbeats. 400 horses. Liquid all-wheel drive. It's the new Nine Eleven Turbo."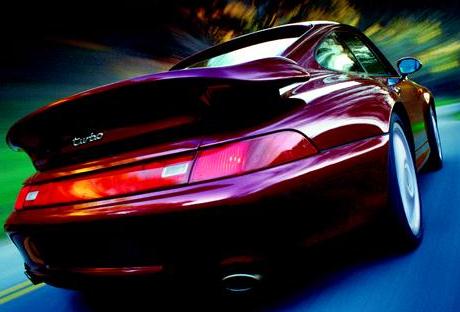 "the perfect mix of tail-out fun and all-wheel-drive security."
Car and Driver Magazine

"The new 911 Turbo is actually lacking something. Racing numbers on the doors. That's about all that separates it from our competition cars. In fact, it's so similar to our GT2 Class Racing Turbos, the ones that always seem to finish Le Mans ahead of everyone else, that both cars roll down the production line side by side. True to our 911 Racing Turbo, this isn't a car built just to arrive somewhere, but rather, a car built to depart for everywhere. Off the line, twin turbos minimize turbo lag while 400 horsepower maximizes acceleration. Specifically, 0-60 in 4.4 seconds. All the roadhandling benefits of the Carrera 4 all-wheel drive, coupled with a wider stance and new 18-inch wheels,

make sure this power is matched with control. Under acceleration, the body's torsional strength marks a 20% improvement over the Turbo 3.6, while a new rear spoiler seems to wave goodbye to everything else on the road. A hydraulically supported clutch lets you get up through the six gears with 25% less effort, while larger brake rotors with 4-channel ABS-5 assure you can handle the red lights as confidently as the green lights."

SPECIFICATIONS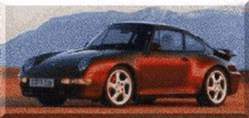 Engine: Rear-mounted, air-cooled, horizontally opposed 6-cylinder, single overhead camshaft, 2 valves per cylinder, crossflow hemispherical combustion chambers, lightweight aluminum block, heads and pistons

Displacement: 3.6 litres

Horespower: 400 hp @ 5,750 rpm

Torque: 400 lb-ft @ 4,500 rpm

Compression ratio: 8.0:1

Fuel/ignition system: Motronic electronic fuel injection and single-plug ignition with knock control

Air induction: Twin intercooled turbochargers

Drivetrain: Full-time all-wheel drive, limited-slip differential, ABD (automatic brake differential) traction system, rear-mounted 6-speed manual transaxle

Suspension (front): Independent MacPherson struts, aluminum-alloy lower control arms, stabilizer bar, negative steering roll radius

Suspension (rear): Independent multilink LSA axel with toe-correcting characteristics, stabilizer bar

Steering: Rack and pinion, force-sensitive hydraulically assisted

Fuel economy city/highway: 13/19 mpg

Acceleration: 0-60 mph in 4.4 seconds

Top track speed: 180 mph

Price: $99,000 (US)

Length: 167.7 in (4260 mm)

Width: 70.7 in (1795 mm)

Height: 51.8 in (1315 mm)

Wheelbase: 89.4 in (2272 mm)

Track (front/rear): 55.6/59.2 in (1411/1504 mm)

Curb weight: 3307 lb

The interior is basically up-market 911. Leather, air, et cetera are standard, of course, as are two airbags. The orange lamp in the dial left of the tachometer is new "check engine" warning which comes on when OBD II spots a fault in one of 70 components or functions. Turbo script is woven into the rear seat backs again.


EXTERIOR FEATURES

Unitized Body Construction
Double-Sided Zinc Galvanizing
10-year Corrosion Warranty
26-step Painting Process
3-year Limited Paint Warranty
Optional Metallic Paint
Integral Bumper (front,rear)
Fog Lights
Litronic Headlights, poly-ellipsoid
Door Handles in Body Color
Electric Sliding Sunroof
Power Outside Mirror Left & Right (heated)
Anti-theft Device for Wheels
Pressure Cast Light Alloy Wheels
Dual Exhaust Outlets
Front Spoiler

COMFORT & CONVENIENCE
Remote Entry Immobilizer System
Alarm System w/LED Warning Lights
Optional Infrared Security System
CFC Free Air Conditioning w/Automatic Temp Control
Cabin Air Particle Filters
Variable Speed Fan
Power Windows

"Take the wheel and we defy you not to smile. 400 horses. Zero to sixty in just over four heartbeats. Eighteen inch wheels. A new wider stance. It's the new Nine Eleven Turbo. Some very serious amusement. Call 1-800-PORSCHE and prepare to agree: Porsche. There is no substitute."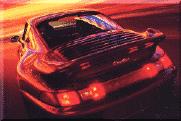 "Like your own portable amusement park."
---
"Starting noise is a trifle muted, like any Turbo, but totally familiar. During your first few hundred yards, the car ambles along like any GT with a decent-size unblown engine. They have indeed reduced clutch force considerably but it bites right at the very top now. Also, the throttle pedal is somewhat sensitive, particularly over bumpy cobbles. It proved easier to ease through crowded villages in second than in first. ...But that engine! On one hand it pulled quite readily in top (sixth) gear from as low as 1800 rpm. Real thrust,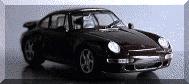 as promised, starts around 2200-2500 and builds like an avalanche on an especially slippery slope. Floor it to pass in spaces few other cars could consider and you get a space-shuttle launch effect. On the other hand, the 6600 red line, or at least the cutout just before 7000, comes up before you can blink in both bottom and second."
- From Excellence, #54, June 1995

Click here to download a recent advertisement ("Kills Bugs Fast" - 32K jpeg)

"Die schönste Verbindung zwischen zwei Punkten ist eine Kurve."


Back to the main Porsche page
Go to the 911 Turbo section of the picture archive

---
Last updated January 31, 1996