PORSCHE
1988 911 Carrera

---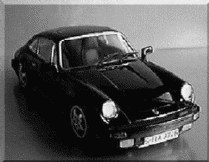 The 1988 Porsche 911 Carrera is quite a machine. This year of the 911 Carrera features a 3.2 litre, 6-cylinder, 214 horsepower (@ 5900 rpm) engine capable of accelerating the car from 0 to 60 mph in 6.1 seconds to reach a top speed of 149 mph.
This is my dream car. I hope to own one in a few years (if things work out as planned): A black 1988 911 Carrera coupe, no rear spoiler, with the addition afterwards of 17" Carrera Cup wheels front and back (as pictured). I'll be content with the stock Blaupunkt radio and cassette player (who wants to be distracted from the rumble of the air-cooled engine anyways?).

I had the opportunity to test drive one a while back, and it was the most exhilirating experience I have ever had in something so seemingly simple as an automobile. The Porsche 911 is very responsive and powerful, and quite a thing to drive.
There were only minor changes in 1988 with Fuchs forged alloys as standard equipment the most noticeable.
To commemorate the building of the 250,000th 911, Porsche offered a special edition, and strangely, offered a similar edition in the 924 and 944 lines. The 911 version came in coupes, Targas, and Cabriolets, with diamond blue paint and silver metallic-blue leather interiors. The wheels matched the exterior color.
A Club Sport version was available in the U.S. for 1988 but only 21 were sold here (148 found owners elsewhere in the world). The option (M637) did not get praised by the motoring press as their comments usually focused on the higher price for less features. A number of expensive features were eliminated but the Club Sport carried a higher price based on exclusivity.
---