16mm filmmaking
I've worked on several 16mm films over the past few years here at Carnegie Mellon as part of the filmmaking club. This year, however, I've done only 16mm work, including writing and directing a 10 minute film of my own.


my recent project:
---
Vorsprung durch Technik (writer/director)


projects on which I've worked:
---
Elevator Gambling (assistant director)
Frank's Wild Years (assistant Cameraman)
The Writer (equipment/grip)


all these can be found on the 1998 compilation video "Best of Filmmaking@CMU" featuring all of the filmmaking club's 16mm films and video trailers.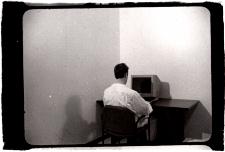 shot 10 from Vorsprung durch Technik (1998)